Zanzibar Snorkeling Tours
Zanzibar attracts thousands of visitors each year because of its rich beaches, resorts, cultures, and historical attractions. However, it is a heaven for divers and snorkelers too!
Snorkeling is among the must do things when traveling to Zanzibar. So, if you are looking for a place to do snorkeling in Zanzibar, this guide is for you!
Here at Zanzibar World, we do all best snorkeling tours for all types of travelers; Sole Travelers, Couples, Friends, Family.
Best Places for Snorkeling in Zanzibar
Below are the 6 best places to do snorkeling in Zanzibar if you will come for your Holiday,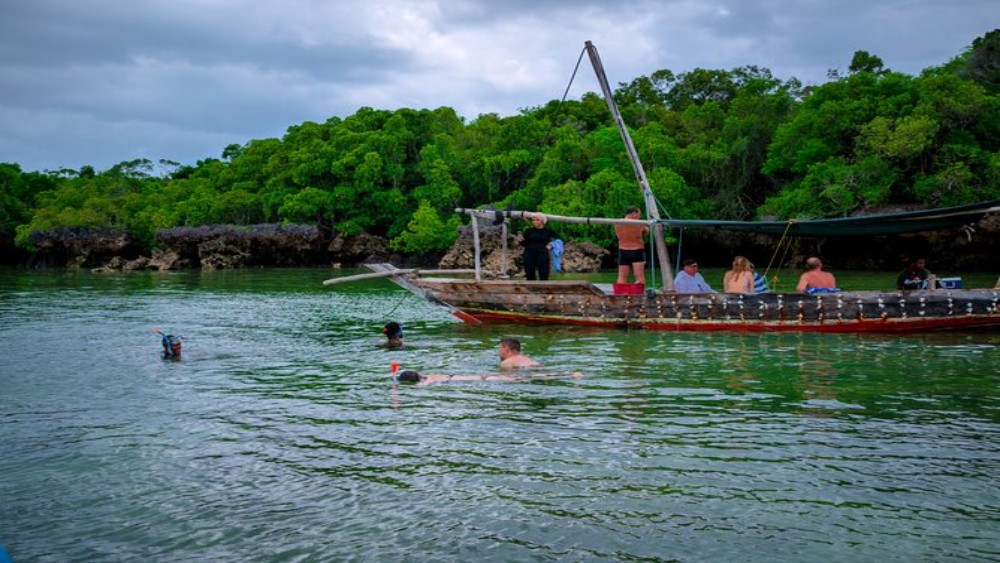 This is the best full day snorkeling tour in Zanzibar. And we always do this tour at Menai Bay Conservation Area in Fumba beach village which is located south west of Unguja Island. 
This bay is extensively covered with beautiful coral reefs, Mangroves forest, and different attractive fish species which give best experience to the Snorkelers. We highly recommend travelers to go to this place for the best snorkeling experience and having fun for their Holiday.
Safari blue is not just snorkeling, but visiting Kwale Island, relaxing on the sandbank, having seafoods, fruits and so on.
Mnemba Island is located on the northeast coast of Zanzibar (Unguja) at Matemwe beach village. The Island is known as Mnemba atoll.
This place is hundred percent best for travelers who only need to do Snorkeling, not other activities. There are so many kinds of fishes here compared to other places in Zanzibar, because fishing is forbidden.
So, you will find different sea creatures like Starfishes, Moorish Idols, Lionfish, Snappers, Green Turtles and some time you may spot dolphins, especially during early morning.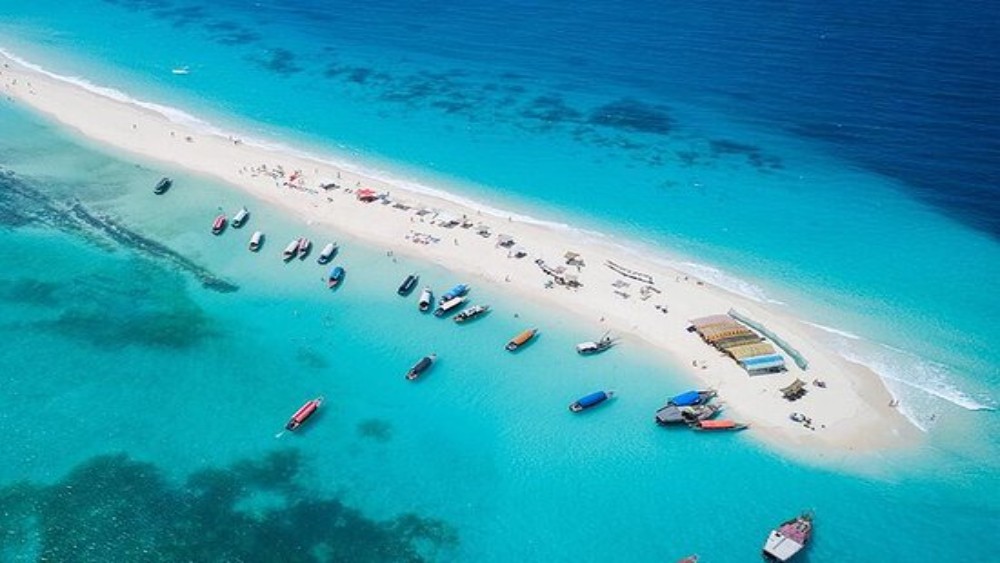 Also you can do snorkeling at Nakupenda Sandbank which is located 1.2 km from Stone Town beach. 
If you are staying or planning to stay in Stone Town, and you are on budget, then you should go Snorkeling at this place instead of Safari Blue and Mnemba Island. Because you will not spend money on transportation.
This island is the most famous island in Zanzibar Archipelago. This is the place where you can see the giant Tortoises who can live up to 300 years.
Instead of these giant tortoises, Prison Island offers a beautiful natural fish garden and a variety of species which give the best Snorkeling experience.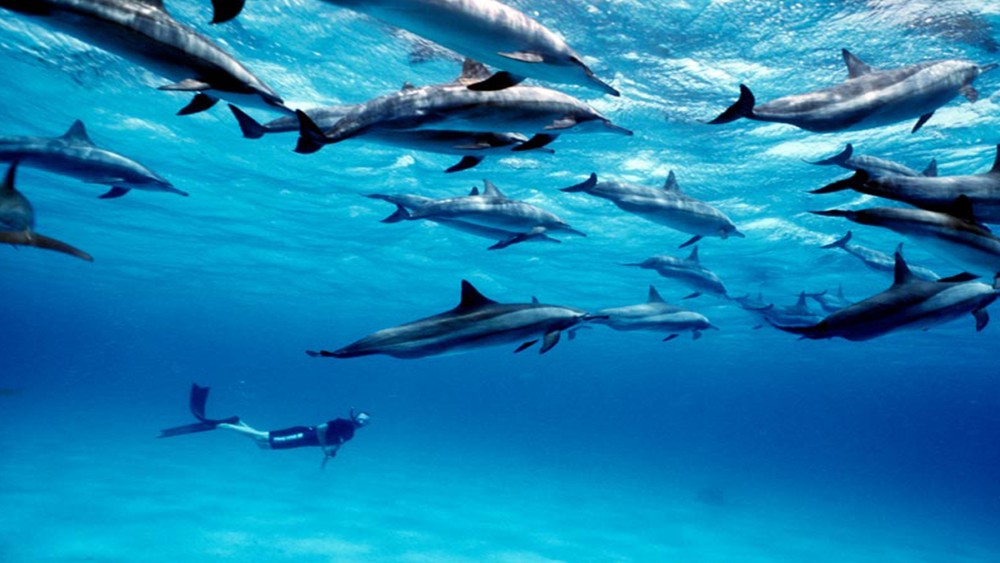 Kizimkazi beach is located on the south coast of Zanzibar (Unguja Island). This is the most secluded and tranquil fishing village compared to other places like Nungwi and Paje beach. 
It is impossible to mention Kizimkazi beach without speaking of Dolphins. Dolphins are the major attraction of tourists at this place. But, actually it is not hundred percent that you can spot Dolphins but most likely you can find them, about 90% you can find dolphins.
Here at Zanzibar World, We provide Dolphin tours including Snorkeling at Kizimkazi. Even Though, we advise travelers that they should choose to go Safari Blue or Mnemba Snorkeling if it is in their interest to do Snorkeling.
6. Snorkeling in Pemba Island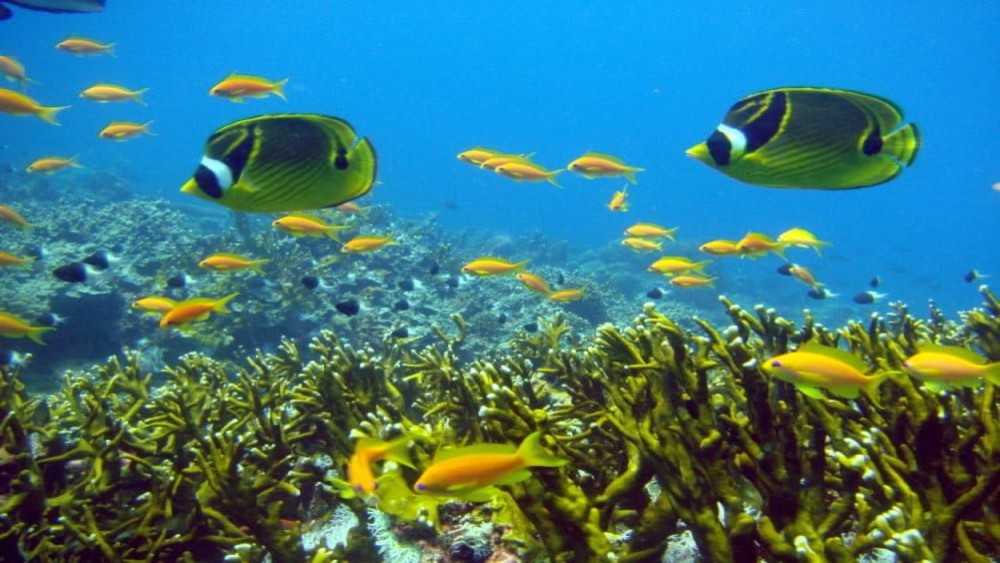 Pemba is blessed with fascinating coral reefs and sea creatures which is best for snorkeling. Actually, there are not too many tourism activities in Pemba island compared to Unguja island, this makes Pemba island to be a virgin for snorkelers and divers.
If you will be staying in Pemba island, check The Manta Resort offers snorkeling trips. This is the only resort you can find an underwater room in Zanzibar.
Best Time for Snorkeling in Zanzibar
Zanzibar island has a tropical climate, this means there is hot and humid weather all year round. Snorkeling during the rainy season doesn't give you a great experience! 
Zanzibar has two rain seasons in a year,
The best time for snorkeling is during the long dry season; June, July, August, September, October. Also from late December  to early march.
Is it Safe to Do Snorkeling in Zanzibar?
Yes, water is perfect for both beginner and experienced snorkelers, extremely safe! No shark attacks reportedly. You only need to make sure you can swim and if you can't please snorkel with life jacket. 
How to Get Best Price Snorkeling in Zanzibar?
Tourism industry has grown in recent years. This is because of expansion of global based travel agents, which give simplicity for the travelers to book their tours and activities online.
But, these Travel agents operate with commission based. That's why prices found on their website are always higher than local companies like us. So the best way to get best price snorkeling in Zanzibar is by booking snorkeling tours with the local companies, and this is why we are here!
Why should you do snorkeling in Zanzibar?
Snorkeling is regarded as among the best experiences in the world during the holiday. Actually, snorkeling is a great way to have fun in the ocean without going too much deeper like diving. 
Also, Snorkeling has a lot of health benefits for snorkelers too; improves breathing, Body Fitness, Mental Health and so on.
The average sea temperatures in Zanzibar is friendly for swimmers, snorkelers, and divers too. The sea in Zanzibar islands is warm enough, it ranges from 25 °C (77 °F) in August to 29 °C (84 °F) between December and April.
During snorkeling, it is advised that you should stay hydrated. And most Zanzibar snorkeling tours include Pure drinking water and watermelon to make sure you stay hydrated.
Can you do snorkeling in Zanzibar at night time?
Currently, there is no place where you can do snorkeling at night time, but if you have enough budget, you can book a stay in underwater room at Manta Resort in Pemba; price of the stay per night for couple is $1500
Is it possible to snorkel with Camera in Zanzibar?
Yes, you can go snorkeling with your camera, it is okay and permissible. In order for you to get a better memory of your vacation to Zanzibar, We recommend you come with your camera, it will be amazing!
In case you are new in snorkeling and you want to learn more about snorkeling, it is very important to understand snorkeling tools. Here are four basic snorkeling tools,
Best Zanzibar Snorkeling Tours to go today
Here are snorkeling tours you may book and today. The prices are affordable and We hope you will love the experiences.