Zanzibar safari blue trip
Safari Blue trip is a full day tour along Menai bay, which is one of the best coral reefs in Zanzibar. Main activities in the tour includes visit to naturally occurring sandbanks, Swimming & Snorkeling in the crystal clear waters, visiting Kwale island with its natural green lagoon and Climbing the old Baobab tree for spectacular view of the Island. 
If you love ocean, this tour for you. You will witness countless colourful fishes and other sea creatures that survive among the coral reefs and underwater plants which together form the barrier reef ecosystem in the bay.
During the tour enjoy the fresh seafood barbeque; Octopus, Lobsters, squids, Calamaris, Fishes. Exotic fresh fruit tasting like Banana, Watermelon, Pineapple, Mangoes. This will be the best adventurous day for your stay in Zanzibar Islands, and you will understand why we call this "Blue Safari"
Swimming and Snorkeling around Menai Bay area
Seafoods BBQ Lunch; Octopus, Lobsters, Squids, Prawns, etc.
Tropical Fruits; Mangoes, Bananas, Pineapple, Watermelon etc.
Sailing with Traditional boat
Visit Kwale Island, natural Lagoon & Sandbank
NOTE: These prices excluded transport costs because it depends on the location of your Hotel. Please reach us and we will provide you full price based on your Hotel location!
Price per person; for group of above 25 person please contact us.
Explore Zanzibar Blue Safari Today!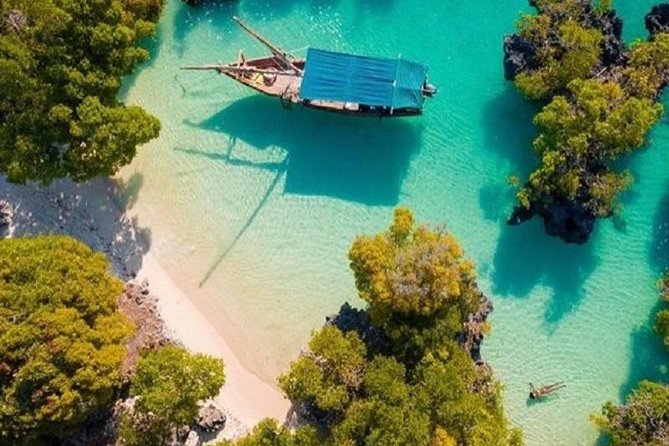 Safari blue is one among the best enjoyable things you can do in your Zanzibar vacation. It is called Blue Safari because of the ocean blueness that you feel during the tour.
It is totally a whole day playing with the ocean in Menai bay conservation area. The Menai Bay Conservation Area is located in Menai Bay, west south coast of Unguja Zanzibar.
This is the largest marine conserved area with 470 square kilometres (180 sq mi), comprising extensive coral reefs, colorful tropical fish, a lot of sea creatures, and mangrove forests.
All together make the best tourists experience when they visit Zanzibar islands.
Safari Blue Trip location