Kiwengwa beach is one of the best places you can stay in Zanzibar, known for its stunning powdery white beach, and breathtaking sound of ocean waves. 
If you are a foodie and looking for the best restaurant to have your meal while enjoying your vacation at Kiwengwa, then you are in luck because there are several amazing restaurants in the area. 
Here are some of the best restaurants in Kiwengwa beach.
La Base JungleKite is one of the best restaurants you can visit in Kiwengwa beach. Their food is always fresh, the staff is friendly and welcoming. We would recommend you visit this restaurant for lunch. 
Because during the day you will enjoy your meal while watching different activities on the beach, especially kitesurfing. Or if you are a kite surfer, you can arrive earlier to enjoy your favorite water sport on the beach before heading to La Base JungleKite for some delicious food.
If you are looking for a restaurant with a stunning view, then Zan View Hotel is the place to go. The Hotel is located on top of a hill facing the Indian ocean, their restaurant offers panoramic views of the beach and the village below. 
The seafood here is always fresh and full of Zanzibar cuisine. If you are a vegan, you won't be disappointed with the vegetarian options or the pizzas.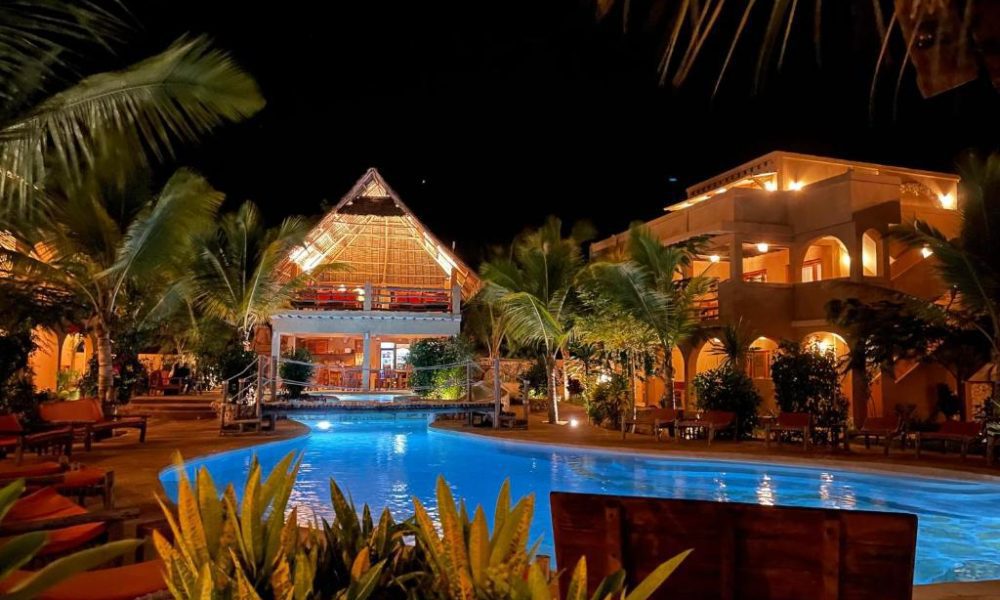 La Capannina is located inside the La Pili Residence Hotel and the restaurant is known for its fusion of Italian and African cuisine. 
The menu is varied, and there is something for every traveler, from breakfast to lunch and dinner. The restaurant's atmosphere is cozy and inviting, and the staff is friendly and accommodating.
Mvuvi Beach Restaurant is all about the fusion of Swahili and Mediterranean flavors. The restaurant uses seasonal and locally-sourced ingredients from Zanzibar and Tanzania mainland to create contemporary dishes that are both visually stunning and delicious. 
The restaurant's location right on the beach makes it easy to source fresh seafood from the local fishermen.
Moyo Restaurant by Zanzibella
Moyo Restaurant is located inside the Zanzibella Resort and is popular among tourists who visit Kiwengwa. The restaurant combines local ingredients and flavors with European style and aesthetics. 
The result is a unique culinary experience that reflects the diverse cultural influences of Zanzibar. The use of aromatic local spices, fresh vegetables, and exotic fruits make the food both healthy and delicious.
FAQ about Restaurants in Kiwengwa Beach
What types of cuisine can I order in Kiwengwa restaurants?
Restaurants in Kiwengwa beach offer a variety of cuisines, including fresh seafood, African, Indian, Italian, and local Zanzibar cuisine.
Are there vegetarian restaurants in Kiwengwa Beach?
Yes, if you are vegan in Kiwengwa beach, we recommend you try a restaurant which is inside the Hotel, because Hotels accommodate different travelers who may have different options.
Check out our guide on the Best Vegetarian Restaurants in Zanzibar.
What is the average cost of a meal in Kiwengwa Beach?
The cost of a meal in restaurants at Kiwengwa varies depending on the type of restaurant and the type of cuisine. However, on average, a meal for two people can cost between $10 – $55.
Do I need to make reservations before visiting Restaurants in Kiwengwa?
There is no need to make a reservation at Kiwengwa beach. However it is advised to book in advance if you visit in high season. Check our guide on when to visit Zanzibar.
What are some of the must-try dishes in Kiwengwa?
Some of the must-try dishes in Kiwengwa Beach and Zanzibar as whole are seafood platters, grilled lobster, and coconut curries. If you are a food lover, book our snorkeling tour which includes Seafoods lunch.
Do restaurants in Kiwengwa accept credit cards?
Yes, most restaurants in Kiwengwa accept credit cards, but it's always a good idea to carry cash when visiting in Zanzibar. Because there are many places that don't accept cards. 
Check our guide For Travelers about Currency in Zanzibar.
In conclusion, if you are planning to stay in Kiwengwa beach, then you have the right decision because it has a lot to offer when it comes to dining options. 
Whether you are looking for local cuisine or international flavors, you will find something. And also, if you are looking to even visit Stone Town to see more options, then it's also possible to catch a taxi to Stone Town from Kiwengwa.