Zanzibar Kayak Adventures
Explore Zanzibar through Kayaking
Discover the unparalleled beauty of Zanzibar's marine ecosystem on an exciting guided kayak adventure. Immerse yourself in the stunning scenery of mangrove forests as you embark on a short yet memorable kayaking journey. Our team of experienced and knowledgeable tour guides is committed to helping you connect with nature while navigating the enchanting mangrove forests of Zanzibar islands.
We have four Kayaking tour options you can choose depending on your interest, these are; "Half day Kayak adventures", "Full day Kayak" "Transparent Kayaking" and the last is "one night camping on the Island".
Explore the narrow ways inside the mangrove forest

Snorkeling around the best and healthy corals

Seafoods BBQ Lunch for full day tour; Octopus, Lobsters, Squids, Prawns, etc.

Enjoy the tropical Fruits; Mangoes, Bananas, Pineapple, Watermelon etc.
NOTE: These prices excluded transport costs because it depends on the location of your Hotel. Please reach us and we will provide you full price based on your Hotel location!
Half day Kayak (3 hrs)

$40

Price per person

Full day Kayak + Lunch (5 hrs)

$65

Price per person

Transparent Kayak (3 hrs)

$65

Price per person

Transparent Kayak + Lunch (5 hrs)

$80

Price per person

1 Night Island Camping

$150

Price per person
Have a Fun with our Kayaking guides
Kayaking is a fun and beginner-friendly activity. Whether you're an experienced kayaker or a first-timer, our dedicated team provides full instructions to ensure your safety and enjoyment. 
At our company, we take pride in offering experienced guides who will accompany you on the water, ensuring that your kayaking experience in Zanzibar is unforgettable.
Best Prices Kayaking in Zanzibar
Our tours are designed with budget-conscious adventurers in mind. We believe that every traveler in Zanzibar should have the opportunity to experience the beauty of Zanzibar from the water, and our cost-effective options make it possible without breaking the bank.
Half Day Zanzibar Kayaking
This service is perfect for those who want to enjoy a shorter kayaking adventure. Typically, a half-day trip involves 3 hours of kayaking, allowing you to explore the natural beauty of Zanzibar's mangrove forests, coastal areas, or other scenic locations.

It's a great option if you have limited time but still want to experience the thrill of kayaking and connect with nature.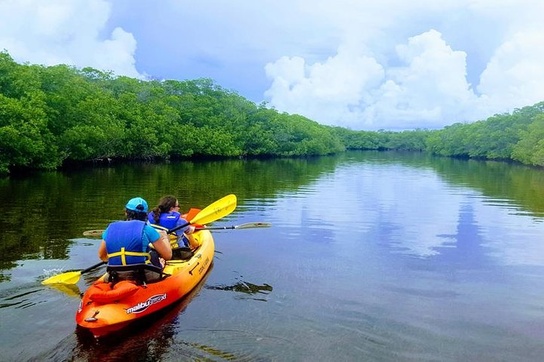 Full Day Zanzibar Kayaking
For a more comprehensive kayaking experience, the full-day trip is an ideal choice. This option provides you with 5 to 6 hours of kayaking and lunch, enabling you to cover more ground and discover a wider range of natural landscapes.

It's perfect for those who want to immerse themselves in the beauty of Zanzibar's waters, mangrove forests, and marine life.
Transparent Kayaking
Transparent kayaking offers a unique and exciting way to explore the underwater world. These kayaks are equipped with transparent bottoms, allowing you to peer through the clear water and observe the marine life beneath you.

It's a fantastic opportunity to witness colorful fish, coral reefs, and other aquatic wonders without the need for snorkeling. We are the only few tour companies in Zanzibar with these clear Kayaks.
One Night Camping Kayaking
If you're looking for an extraordinary adventure, the one-night camping kayaking service combines the thrill of kayaking with the magic of spending a night in the great outdoors.

You'll paddle to a secluded camping site, where you can set up camp, enjoy a campfire, and fall asleep under the stars and wake up with the perfect sunset on the small island. This option is an immersive experience that allows you to connect with nature in Zanzibar.